Great news! The IntelliZoom Panel is now a part of the UserTesting family. We may invite you to join this panel where you can help customers create better products and experiences in a new and exciting way.
Learn more:
Why wasn't I approved to join the Contributor Network?
Because we receive many applications each day, we're unable to provide personalized feedback about your practice test. However, here are some common reasons why applicants don't meet the requirements for approval:
Not saying what they're thinking out loud
Speaking too quietly or unclearly
Providing incorrect or incomplete answers
Skipping or not following task instructions
Distracting or excessive background noise
What is the Intellizoom Panel?
The IntelliZoom Panel is the newest addition to the UserTesting family. In many ways, this panel is similar to the Contributor Network. You create an account, fill out your profile, and then start taking tests. Learn what to expect on the Intellizoom Panel.
You'll still get to share your perspective with leading brands and receive money in exchange for your feedback.
How will I know if I can join the panel?
You'll have the option to join the panel from your dashboard, and you'll also receive an invite by email.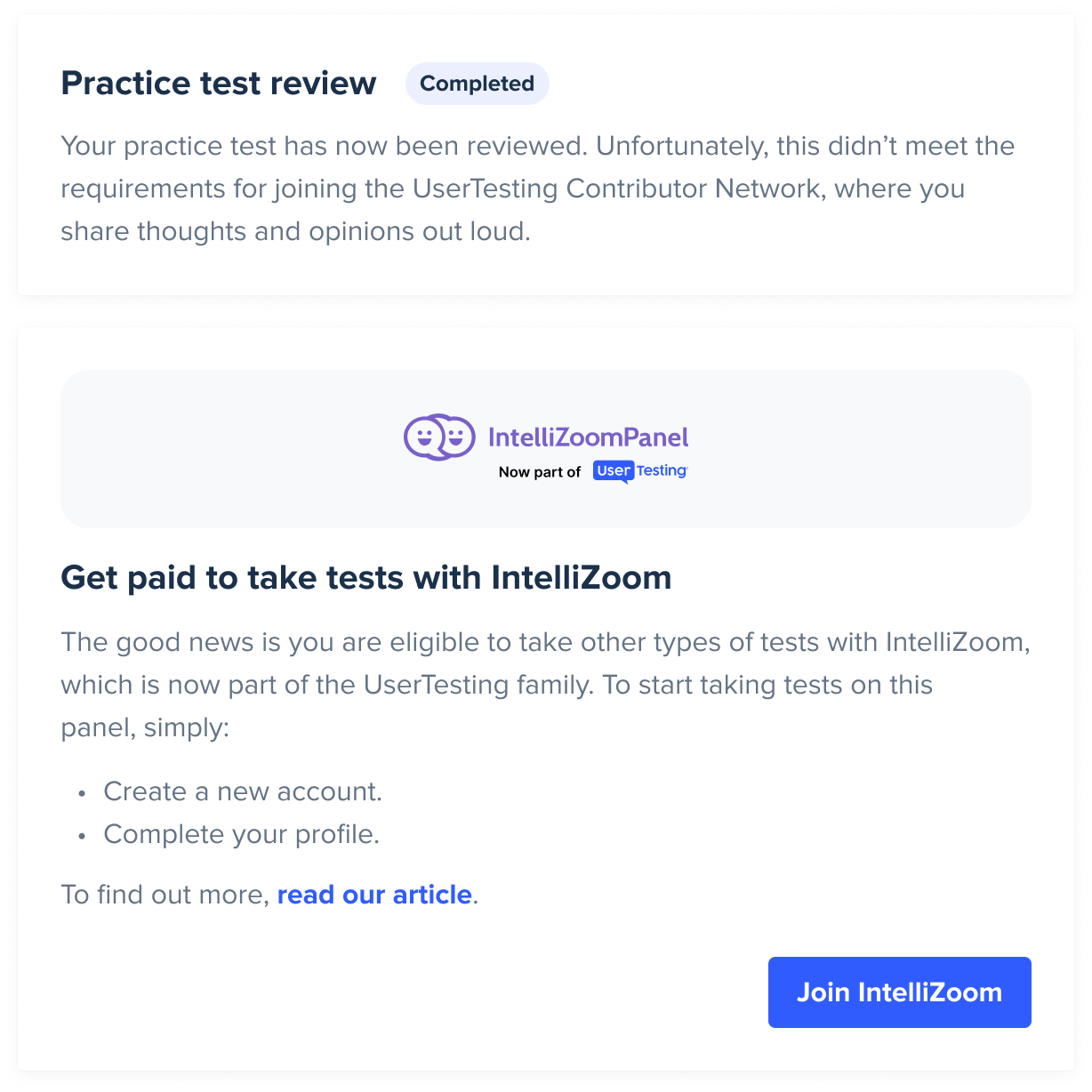 At this time, we're only inviting select people who didn't pass the practice test after their second try.
Do I have to take another practice test to join?
No, there's no need to take a practice test. To join the panel and start taking tests, you'll just create your account and complete your profile.
What types of tests will I take?
On the IntelliZoom Panel, you'll participate in Non-Think Out Loud, or Non-TOL, studies. To complete these studies, you won't have to record your face or your voice.
Non-TOL studies include activities like:
Card sorts



Click tests

Surveys



Tree tests

Learn more about Non-TOL studies.
Think Out Loud, or TOL, studies, are also available on the IntelliZoom Panel. If you'd like to participate in these studies, you will have to pass a practice test first.