Welcome to UserTesting! If you want to know more about what it means to be a UserTesting contributor, watch this quick video.
For more details about testing, screeners, and managing your account, review this list of FAQs.
I'm concerned about a low rating I received on a test. Can you review it?
The UserTesting Quality Team manually reviews all 1- and 2-star-rated tests to make sure that customers' ratings are fair. Once the review is complete, the team will send you an email with your final rating and any relevant coaching to help you on your next test.
You can view your rating from your dashboard under the Test history tab. Follow these steps:
Select the

Test history tab, and then click on your test to view more details.

From a computer:



From the UserTesting mobile app:






Look for your rating and any available comments under the Review and feedback section.



NOTE:
Please allow time for the Quality Team to review your test. Because of time and resource limitations, the team is currently unable to review ratings above two stars.
Why wasn't my test rated?
While we encourage our customers to rate and comment, they're not required to. It's very common for most of your tests not to include a rating. Unrated tests don't impact your average rating or diminish your chances of getting new tests.

To learn how to give helpful feedback, take the lessons in the Help Center tab of your dashboard or check out the following resources:
For more information about when you can expect your first test to be reviewed, look here.
How do I tell the difference between a mobile and a desktop test?
You may see a combination of desktop and mobile app tests on your dashboard. They look similar, but here are a few key things to help you tell the difference!
While you may see invitations for mobile tests in your Test Feed, you can only take these tests by downloading our UserTesting app from the App Store or Play Store.
You can identify what device is required for a test by the badges included on every test invitation: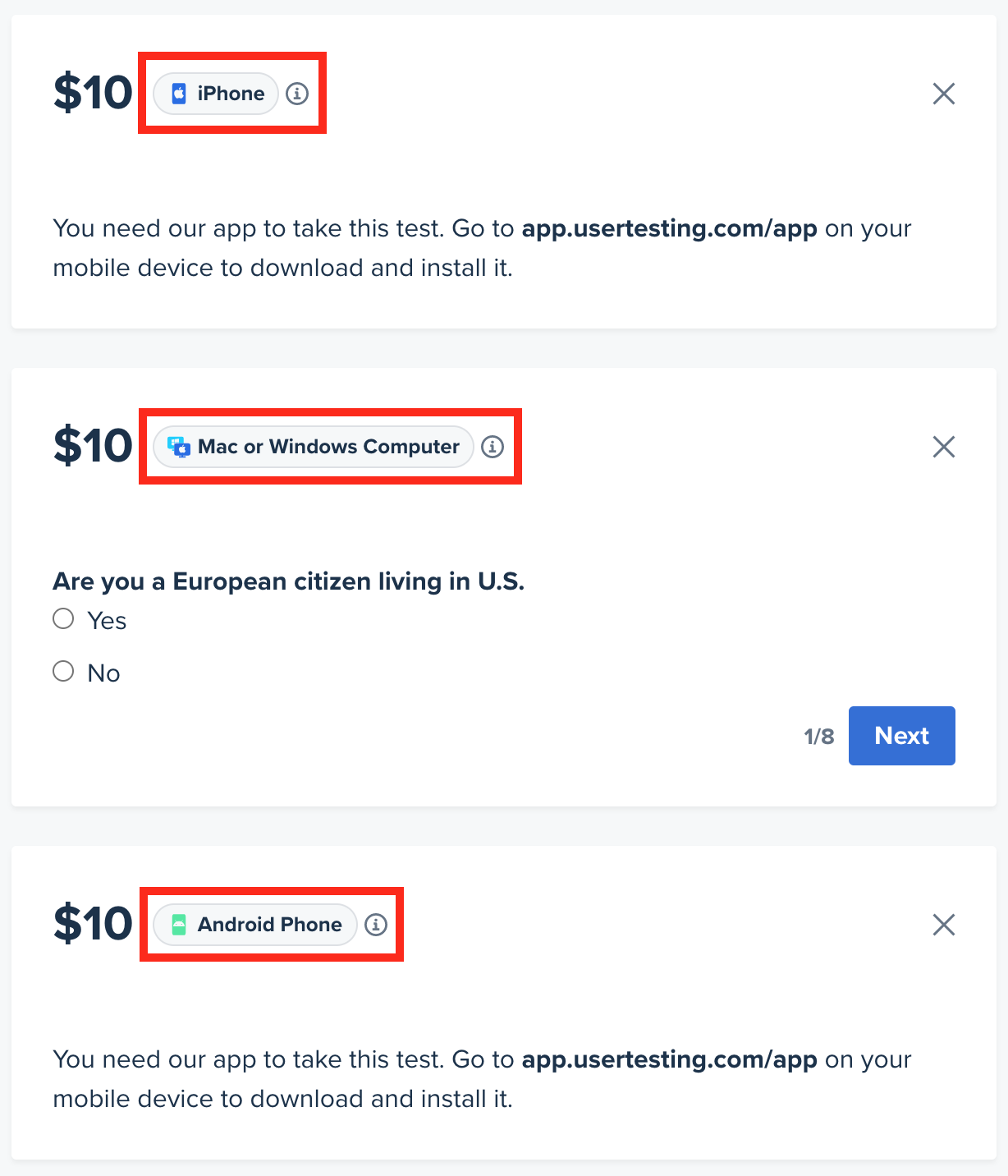 How do I delete my account?
If you plan to come back, you don't need to delete your account. We'll keep it safe while you're gone! If you do decide to delete your account, read the instructions here.
I've taken this test before. Can I retake it?
Since most of our customers prefer "fresh eyes", we ask that you refrain from taking the same test again. If you're already taking a test and you found it very similar to a test you've taken before, please exit the test. This will prevent you from getting a low rating and canceled payment.
The screener doesn't apply to me. What do I do?
A lot of customers use screener questions to filter for more specific requirements. If you're taking a screener and none of the options apply to you, please click the X in the top right of the invitation to decline the test. If you provide false screener responses and complete that test, you will not receive compensation for the test and you will receive a negative rating. You may also be removed from the UserTesting Contributor Network.