We've put together a list of tips to help you have a great testing experience and earn high ratings from customers. Remember, contributors with higher ratings see more testing opportunities!

Here are some tips:
Before you accept a test:
Read and understand any requirements to make sure you qualify for the test
For example, If the customer includes a requirement that you must live in Australia, don't accept the test invite if you live in the United States.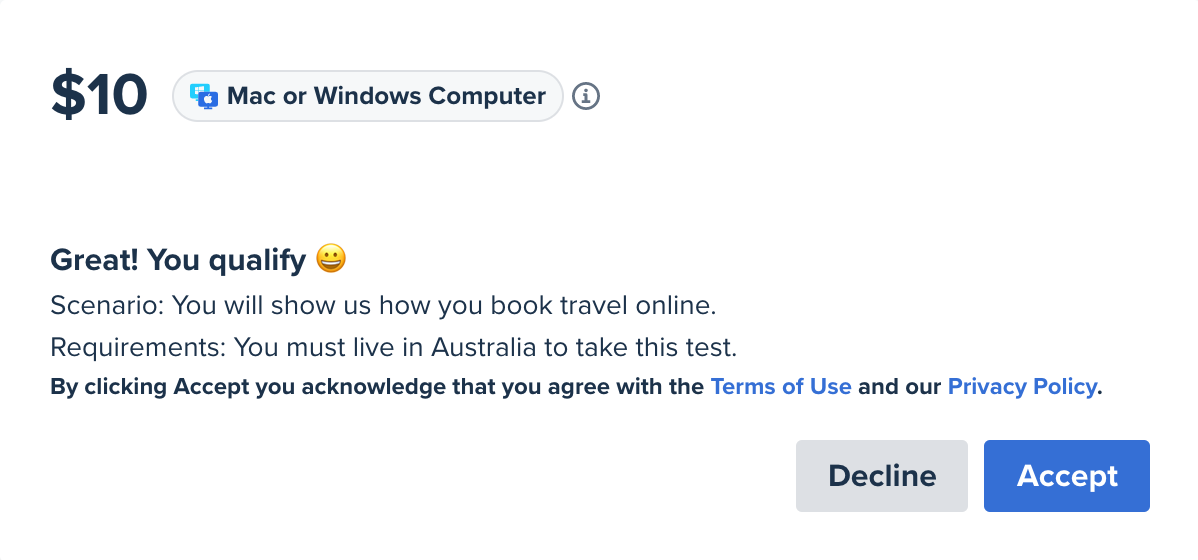 If you don't meet the requirements, you'll probably end up wasting your time with the screener questions.

Plus, if you somehow make it to the test anyway, it won't take long for the customer to realize you weren't a good fit for a test. This means you risk receiving a low rating from the customer and cancellation of your test payment.


Honestly answer each screener question
Remember, it pays to be honest.
If you complete a test when you don't meet the requirements, it'll be a waste of your time as well as the customer's time. The customer will likely give you a 1-star rating and request that we cancel your payment for the test.


Hide your personal information
You should close any personal chats, tabs, windows, apps, or other private information that you don't want to be recorded.
While recording a test:
Review the scenario
Take some time to read and understand the scenario so you understand what the customer expects from you during the test.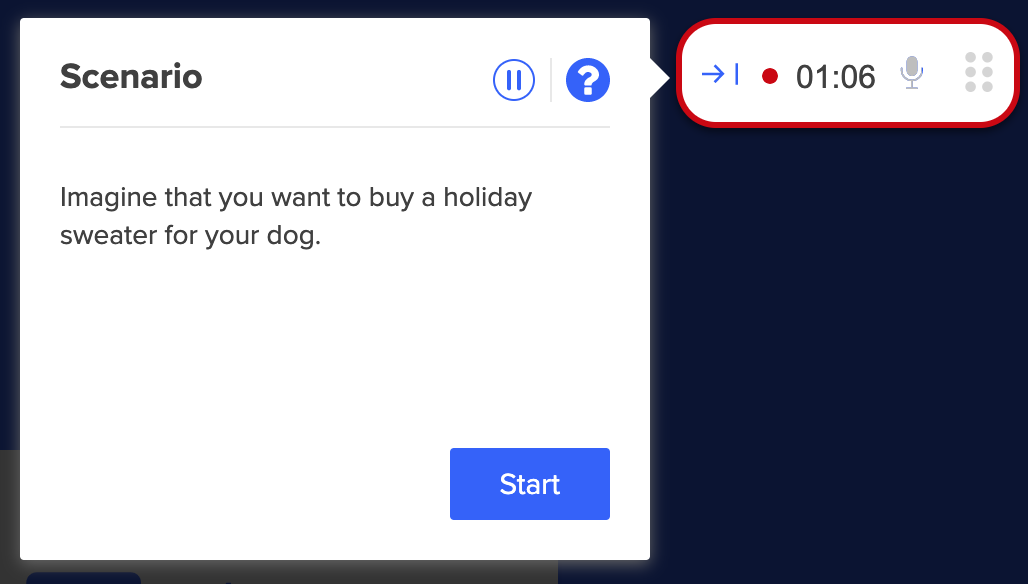 Remember, customers are looking for input on their products and services, and they want you to show them how to make them better. What do they want? It's usually written in the scenario. If the test says to imagine you're shopping for a car, really try to get into the mindset of someone who wants to buy a car. Imagine your car just broke down – what would you think about or do?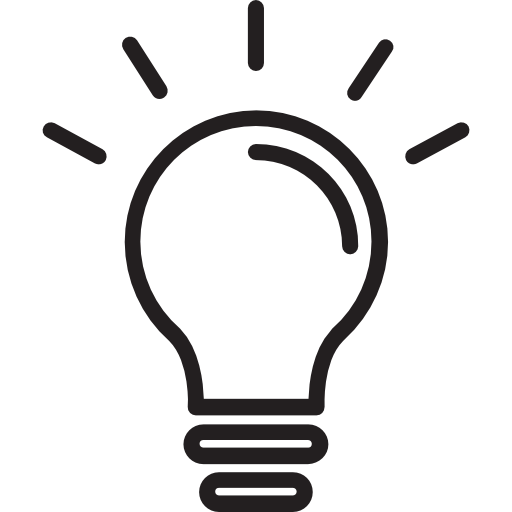 TIP: It helps to read the scenario out loud.
Check your audio
The microphone icon should move as you speak your thoughts out loud.
If the icon is moving when you talk but flashes yellow or red: Your audio is too loud, and this may cause quality issues with your recording. This may make it difficult for the customer to clearly hear your feedback.
If the icon doesn't move when you speak: The recorder isn't picking up your audio.
If you can't fix your audio issues, then you should
quit the test
.
Carefully read and complete each task
Customers often need you to complete tasks in a certain order so it's important you don't work ahead of the task instructions.

If you experience a problem during a test and you can't complete most of the tasks, you should report a problem.
Don't just read what you see
Explain what you're thinking so that the customer knows why you like or dislike something.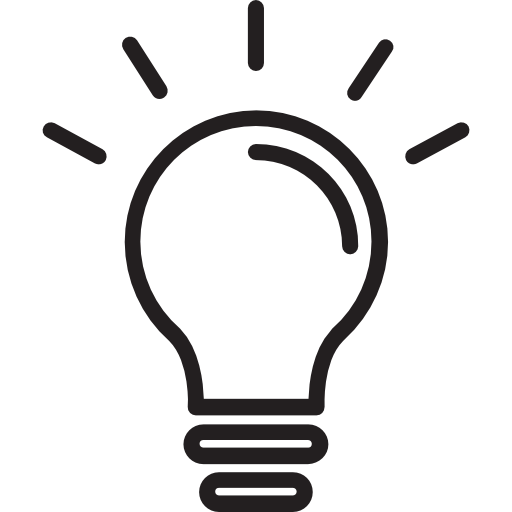 TIP:
Customers rate videos based on how helpful they are, so the more detailed feedback you can provide, the more likely you'll receive a high rating.
Use the Help menu
In a perfect world, no one needs help. However, we all know that not all tests are perfect and not all computers are perfect. Things happen, and you may be unable to continue with the test. Use the help button to quickly visit the Support Center or send a ticket to our Support team.
This allows us to alert the customer and quickly fix the issue. If you don't let us know and you upload a faulty video, you might receive a low rating. Learn when you should report a problem during a test.