As a UserTesting contributor, customers may invite to complete many different types of tests. You may have seen a notification on your dashboard or a special badge on a test invite for a short test. Review this article to learn more about this test type and how to complete one successfully.
What is a short test?
Short tests are a type of test that takes between 5-7 minutes to complete. Customers use this test type to measure first impressions, preferences, or other quick takes.
How much do I get paid for a short test?
Check your test feed to see the amount you'll get paid for each test. Keep in mind that you should spend a maximum of 5-7 minutes on these tests .
How do I identify a short test?
You can identify short tests by the Short Test badge on the test feed.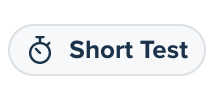 Do I have to speak during a short test?
Yes! Even though these tests are short, it's important to speak your thoughts out loud and provide feedback just like you would on any other test. The customer still wants to hear your opinions!
How long does a short test take to complete?
Short tests should take between 5-7 minutes to complete. If you spend more than 5 minutes on a short test, you may see the following message asking if you'd like to continue or end your test: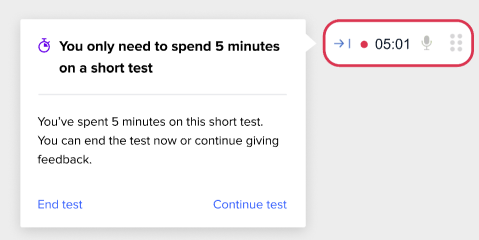 If you feel that you can finish the test within 1-2 minutes after seeing this message, feel free to continue and wrap up your thoughts.
If you feel that the customer designed the test to take longer than 5-7 minutes and you won't be able to thoroughly complete the test within that time frame, you are free to end the test when this message pops up.

Keep in mind that we don't offer bonus payments for short tests, so you won't receive an extra payment if you choose to spend longer than 5-7 minutes on the test.