With the UserTesting App for iOS or Android, you can easily view available tests on your mobile device and check the status of your tests and payments.
From your mobile dashboard you can:
View your test feed
The test feed is a scrollable view of test invites. You can find your test feed on the Home screen. Whenever you open the UserTesting app, this screen will appear first.
You can interact with a test invite to:
View the

payment amount for a test




View the test type




Complete any included screener questions to see if you qualify for a test




Decline a test invite


Using the tabs on the navigation menu, you can switch between two views: Tests for this device and Tests for other devices.


Other devices might include your computer, tablet, or another cellphone that you own.
View your test and payment history
You can use the mobile app to see the details for any tests you've completed. Just tap on the Test history icon.
From the Test history screen, you can also select any test to view its details. This information includes the:
Payment status


Check this status to see if your payment has finished processing, or if there's an issue with your payment.

Payment amount
This is how much money you should expect to receive in return for completing your test.
Payment date
Depending on the status of your payment, this is the date that your payment finished processing and was sent to your PayPal account or

the date when you should expect to receive your payment.

PayPal Email address that you provided
This should be the email address linked to the PayPal account where you expect to receive payment.
Date and time that you completed the test
Test ID
If you have a question or concern about your test, you can share this ID with the Support Team.
Test status
Check this status to see if your test was completed

or

canceled

. If you report a problem during a test that you could not complete, the status will show as

Problem reported

.

Test type
The test type will either be unmoderated

(for standard tests) or

Live Conversation

.

Test duration
This is how long it took you to complete the test.
View your profile settings
Your profile will look a bit different, depending on whether you're still an applicant or if you've already joined the Contributor Network:

The applicant profile:
If you're a new applicant and you haven't yet set up your profile, you'll see messaging and instructions to complete your profile on the Home screen.
The contributor profile:
If you've already passed the practice test and completed your applicant checklist, the Profile screen will display your username. You might also see your current rating (depending on whether or not you've already completed your first test).
More options
If you tap the More icon

you can explore some additional support resources or review our privacy policy.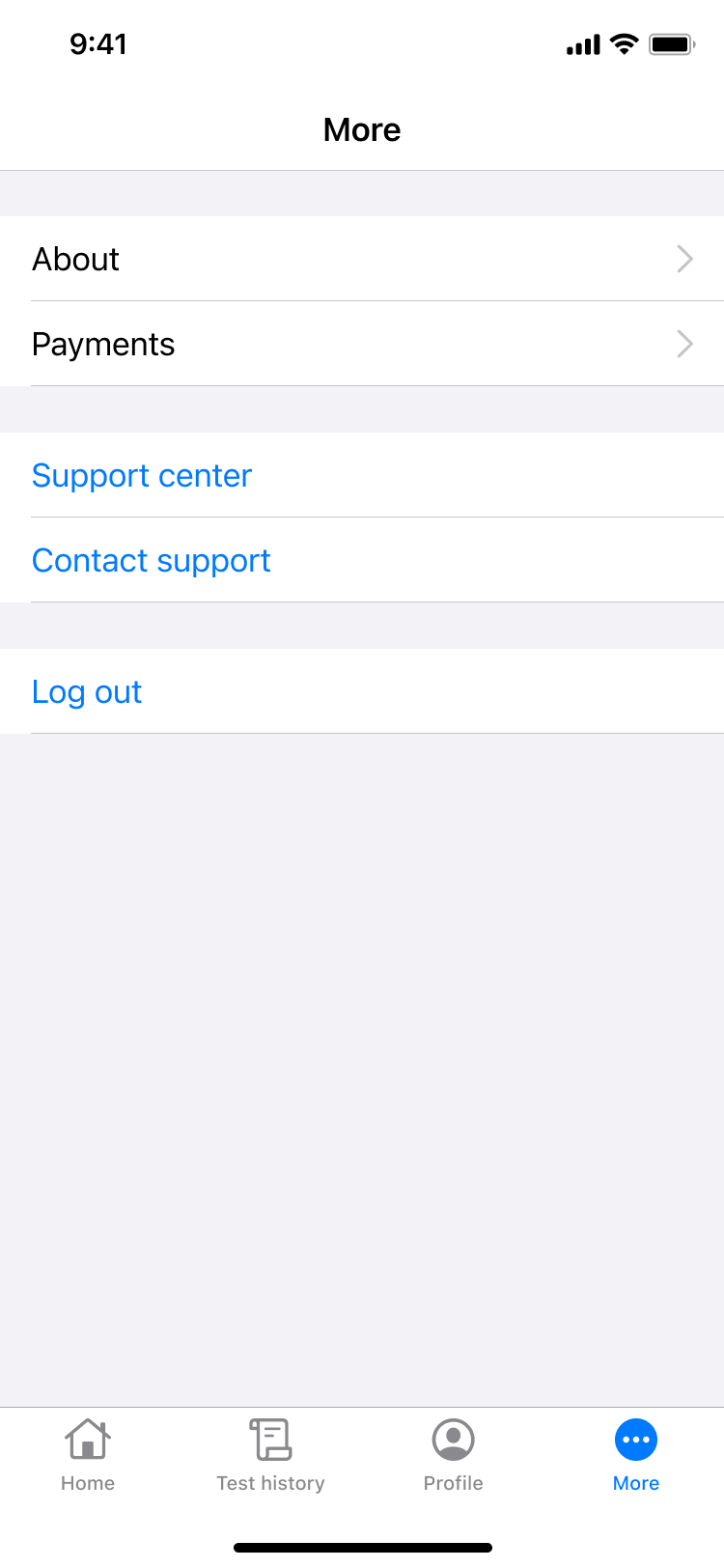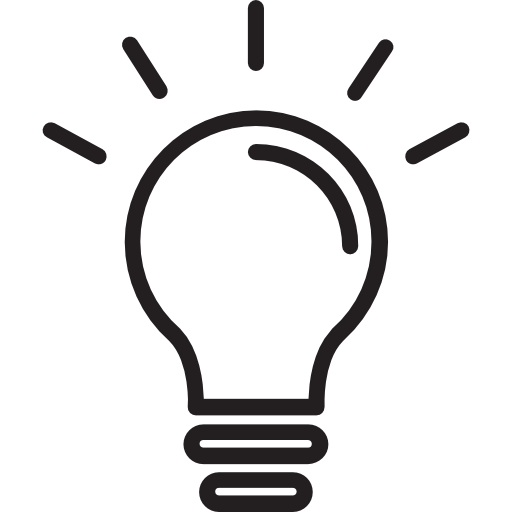 TIP:
This menu also includes an option to log out of the UserTesting app. To log out, simply tap the
Log out
option, and you will return to the login screen.
View the UserTesting Privacy Policy
As a contributor, you should be familiar with our Privacy Policy and Terms of Use. You can review our privacy policies by tapping on About > Privacy policy.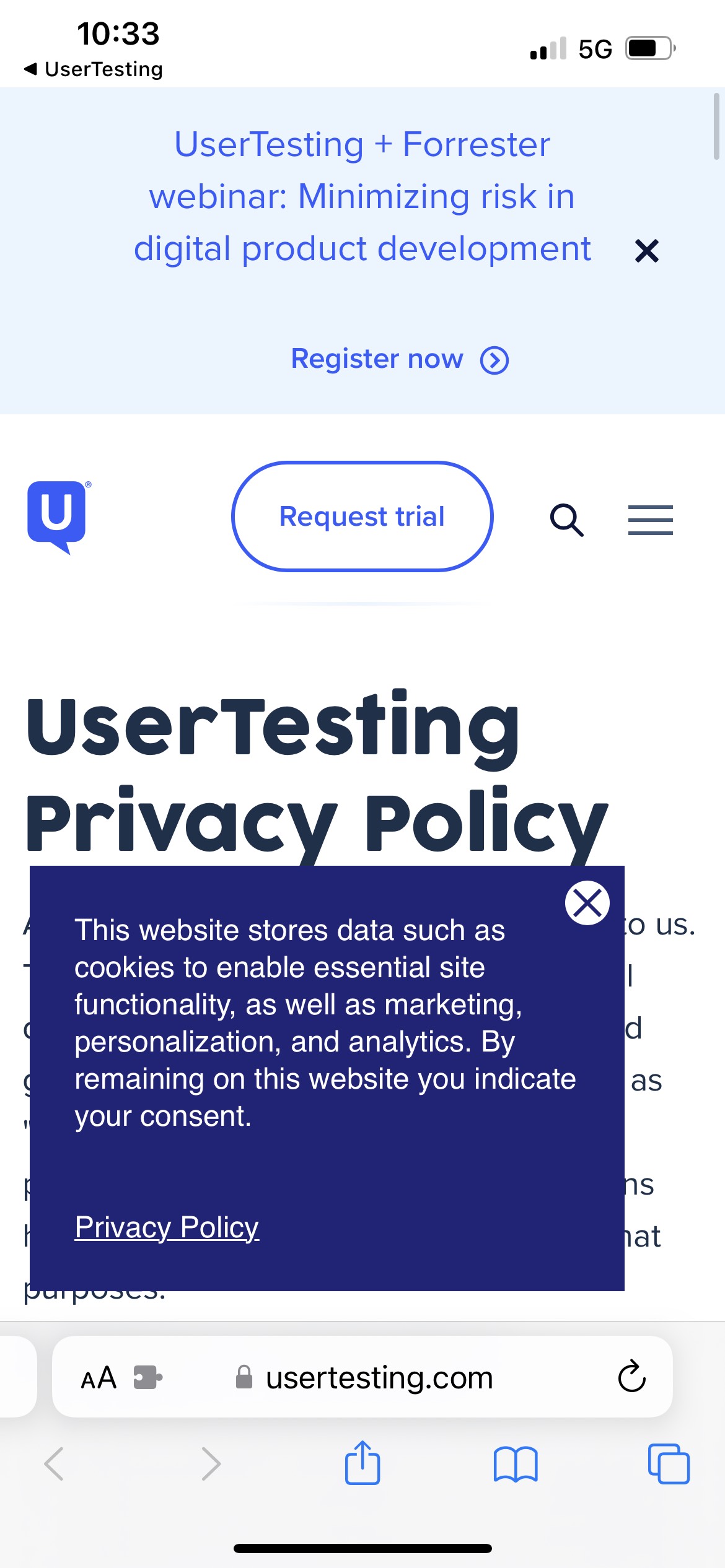 View or update your PayPal email address
Tap on PayPal email to check your PayPal email address. This email should be linked to the PayPal account where you want to receive your payments. If you notice that the wrong email address is listed, you can update your PayPal email address from this screen.
Visit the Contributor Support Center
If you tap on the Support center link, the contributor knowledge base will open in your mobile browser. Use the Support Center to find questions to commonly asked questions and tips for your next test.

Submit a support ticket
When you tap on the Contact support link, you'll be redirected to a form you can use to contact our Support team. Use this form when you're unable to find an answer to your question on the Contributor Support Center or from our chatbot, Edison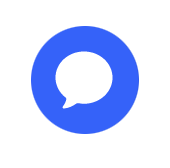 . So we can better assist you, please make sure to provide as much detail as possible when you complete this form.