What are screeners?
Screeners are multiple-choice questions that you may need to answer before you are able to accept a test. These ensure that our customers are getting feedback from their target audience. Screeners can be about your employment experience, likes, and dislikes, shopping habits, hobbies, or something else entirely!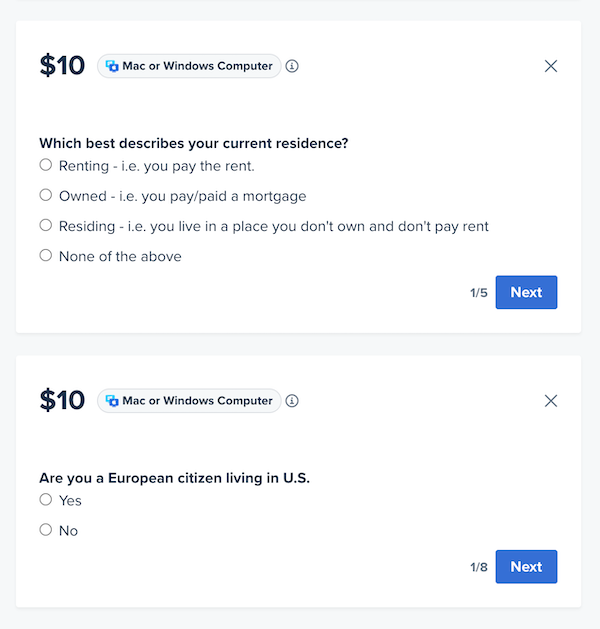 We know that it's frustrating to answer multiple screeners that ask similar questions, especially if you don't qualify for the test. In order to reduce the amount of time you spend answering screeners and maximize the time you spend testing, our system will automatically remember your screener responses for 30 days.
How are my screener responses used?
Screeners are used to match you with our customers' tests. If you pass all of the screener questions for a test, complete the test, and successfully upload your test video, the customer will be able to see the screener responses you answered for that test. However, customers do not have access to any screener responses that do not result in a successfully completed and uploaded test.
To learn more about how your information is used, please see our Privacy Policy.
What else should I know about screeners?
If you do not qualify for a test due to your answers to screener questions, you will not be able to retake that screener. This applies even if you accidentally select the wrong answer, so be sure to carefully read the questions and all of the possible answers before submitting your response. We cannot reset these for you.
If you're taking a screener and none of the options apply to you, simply exit the screener and decline the test.
If you're completing a screener and more than one answer applies to you but you're limited to one choice, please choose the most recently applicable answer.
Please note that you will be expected to elaborate on your screener answers during the test. If you are not able to elaborate on your answers and provide personal examples relevant to your screener answers, your test may result in a low rating and a canceled payment. Any contributor who is found to be providing false information will be removed from the UserTesting network.